Report courtesy of hoganstand.com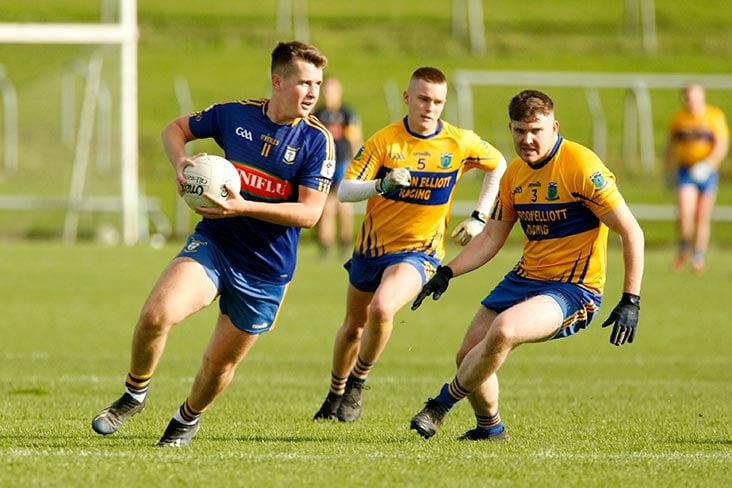 Ratoath's Brian Daly with Iarla Hughes Summerhill during the Meath Premier Division 2 final at Pairc Tailteann
Cian Smith's 41st minute goal was the difference as Ratoath overcame Summerhill in an exciting Premier Football Division 2 final at a windy Pairc Tailteann on Sunday.
Ratoath ……….. 1-11
Summerhill ……. 0-11
Smith's goal put Ratoath ahead for the first time in the game, 1-7 to 0-9. They were never headed again though Summerhill levelled matter on two occasions subsequently.
The scores were tied, 1-8 to 0-11, when Eamonn Ryan appeared to be foot-blocked in the 53rd minute. The Summerhill contingent were understandably not pleased with the decision.
Backed by the elements, Ratoath closed out the game with a trio of points with the influential Eoghan McMahon restoring his side's lead in the 57th minute.
McMahon was central to the clinching scores. First, pointing a free from outside the D. Then, he placed Brian Daly for the final score.
Both teams sported their premier attire which greatly helping all watching.
While the quality may have been lacking at times, both teams contributed to an engrossing contest.
Ratoath opted to play into the wind in the first-half which was questioned when they fell six points behind, 0-2 to 0-8, with 21 minutes.
By this stage, Summerhill lost influential midfielder Ciaran Gillespie to injury.
Ratoath raised a gallop in the run-in to the interval with points from John Walsh and Harry Dalchan (two).
With Eamonn McDonnell and Eamonn Ryan to the fore Summerhill finished the half leading by 0-8 to 0-5.
Half-time didn't break Ratoath's momentum as they pulled two more points back within four minutes of the restart through Brian Daly and Eoghan McMahon to cut the gap to a single point. An Eamonn McDonnell free left Summerhill two clear with 38 minutes gone but with a stiff challenge to beat the elements and Ratoath.
The next score was the decisive goal but Summerhill weren't a beaten docket. Level at the second water break, 0-10 to 1-7. The countered Ratoath's next point (a McMahon free) with a similar score from Eamonn Ryan. That levelled matters for the final time before kicked on to claim the silverware.
Scorers: Ratoath – Cian Smith 1-1, Eoghan McMahon 0-4 (2fs); Harry Dalchan 0-3 (1f); Brian Daly, John Walsh, Cian Smith 0-1 each.
Summerhill – Eamonn Ryan, Eamonn McDonnell 0-4 (2fs) each; Ciaran Gillespie 0-2; Cathal Brien 0-1
Ratoath – Cian O'Farrell; Darragh McGill, Cormac Butler, Peter Barry; Adam Whelan, Gareth Rooney, John Walsh; Cian Smith, Cian Kelly; Harry Dalchan, Brian Daly, Sean Mohan; Tiernan Ahearne, Mark Daly, Eoghan McMahon. Subs – Emmet Boyle for Mohan (16), Sean Johnson for M Daly (ht), Leigh Sullivan for Ahearne (48), Ryan Kelly for Smmith (60 + 2).
Summerhill – Robbie McDonnell; Mark Donoghue, Iarla Hughes, Jack Davies; Ben Moran, Jack Bannon, Conor Ryan; Ciaran Gillespie, Paddy McGrath; Conor Summerville, Aaron Williams, Eamonn McDonnell; Eamonn Ryan, Cathal Ryan, Cathal Brien. Subs – Donal Matthews for Gillespie (20),Gavin McVann for B Moran (37), Niall Rooney for Whelan (37), Ross Tallon for C Ryan (43), Eoghan Jennings for Summerville (46), Bobby Lyons for Cathal Ryan (48).
Referee – Liam O'Brien (Duleek-Bellewstown)