Report courtesy of hoganstand.com
MFC Div 3 Final: 'Hill' tops in thrilling encounter
October 30, 2018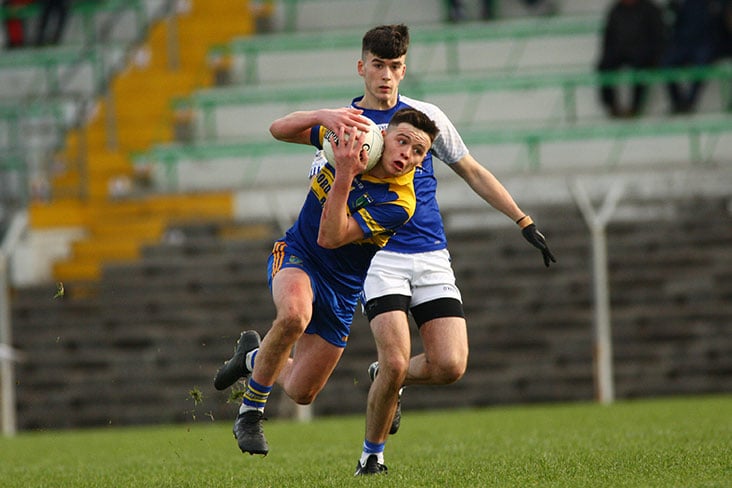 Summerhill's Jamie O'Shea with Louis Colleran Oldcastle during the MFC Division 3 final at Pairc Tailteann
Summerhill claimed the LMFM Meath Division 3 Minor Football Championship title with this narrow win over Oldcastle on Bank Holiday Monday at Pairc Tailteann.
Summerhill 1-9 Oldcastle 0-11
Amazingly the first score in this game proved to be the crucial one, Luke Moran found the Oldcastle net after seven minutes. Jamie O'Shea extended the Hills lead minutes late from a free. Oldcastle responded with a brace from Colin Hawdon. The Meath minor added another two before the break as the teams went in level 1-2 to 0-5.
They were still tied after ten minutes of the second half. County Under 16 star Pearse Sheridan and Summerhill full forward Eoghan Frayne each raised two white flags. Within the next five minutes Oldcastle were in front thanks to two fine points from Oran Mulvaney and Darren Connell.
Jamie O'Shea and Frayne was beginning to assert their influence on the game and Frayne's four points along with a fine effort from Moran before the 30 minute mark pushed Summerhill ahead by two. Oldcastle were reduced to 14 when referee Owen Ganly dismissed Darragh Reilly on 2 yellow cards.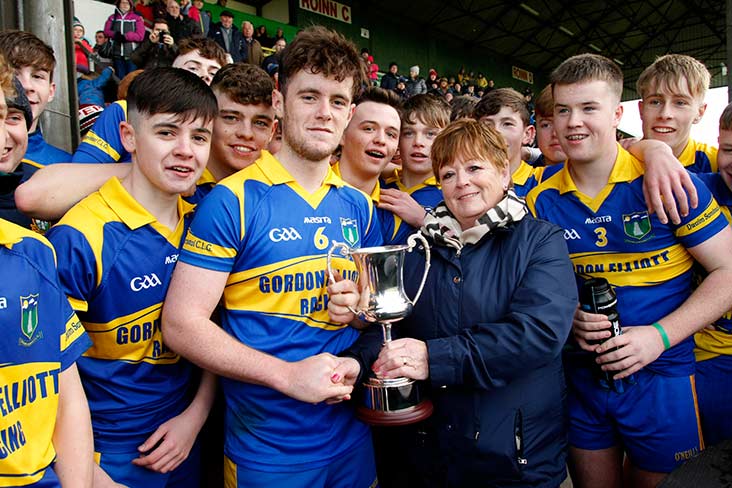 In a very tense four minutes of injury time Hawdon narrowed the gap to one and the north Meath side had a chance for a leveler but Sunmmerhill cleared and held on for the win.
After the game Ann McDonnell presented the Noel Curran Cup to Summerhill captain Conor Ryan.
Summerhill: Oisin Hussey, Ben Moran, Gavin McVann, Darren Chapman, Kevin Mulligan, Conor Ryan, Adam McDonnell, Adam Byrne, Donal Matthews, Conor Summerville, Jamie O'Shea 0-1, Adam Larkin, Kian Hussey, Eoghan Frayne 0-7, Luke Moran 1-1. Subs: Eoghan Grehan, Jack Brennan
Oldcastle: Ross McCann, Darragh reilly, Louis Colleran, Cillian Hanlon, Arron Getty, Ciaran Healy, Joseph Lynch, Oran Mulvany 0-2, Pearse Sheridan 0-2, Jack Murphy, Colin Hawdon 0-5, Darren Connell 0-1, James McCluskey, Cillian Connell, DJ Monaghan. Subs: Colin Halpin, Jack Fox, Charlie Lynch 0-1
Referee Owen Ganly Trim